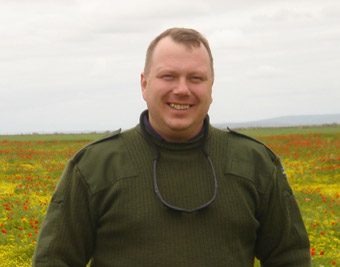 For details about our team of instructors and advisors Click on a name to see the full biography:
A truly colourful character, jovial and friendly, large in life physically and larger than life in personality, Lars enhances the Tread Lightly Team with over 20 years of survival, outdoors and expedition experience, a significant portion of which was gained on Special Forces Operations in addition to teaching and using his skills as a Survival Training Officer at the Swedish Parachute Ranger School and with the general public.
Born in Sweden and holding dual Swedish and US citizenship, Lars spent a total of 19 years within Special Forces units, 10 years of which was spent deployed overseas on active duty operations, most notably as an officer in the Swedish Parachute Ranger Battalion. As well as his survival expertise Lars is also a highly experienced Combat Medical Instructor (SF 18 Delta).
During Lars' extensive active service career he has had to put his skills to the test in real life situations on many occasions; living off the land, even in Arctic conditions, for up to a month at a time! As Lars likes to put it "When you have to figure out ways to carry around one metric tonne of gear in the deep snow between four guys and live on algae scraped off rocks, reindeer moss, old man's beard and whatever you can fish or snare for a few weeks, and do it for real, you really get to understand the true meaning of good survival techniques!"
In addition to his Arctic and temperate zone experience, Lars is hugely experienced in mountain, bush and desert survival and living skills. He has spent prolonged periods in the Karakum desert and in and around the mountainous border areas of Afghanistan and Iran. Lars has also spent significant time in Zimbabwe, Zambia, Bosnia, Western Europe, Northern Europe, the USA, the former Soviet Union and lately Turkmenistan and Uzbekistan.
Lars' skills and experience include being able to train people to travel or live in hostile and dangerous environments where the threat might be natural, political or people!
In addition to Lars' survival and hostile environments experience, perhaps unsurprisingly for someone with his huge character, his life has remained colourful and varied. He has been a diplomat, including holding the post of a United Nations Honorary Ambassador. He is a professional logistician, filling roles such as 'Chief Coordinator of the Swedish Armed forces' for projects in the Baltics, working with the Governments of Latvia, Lithuania, Estonia, the USA, the UK and Sweden. He has held responsibilities at the highest levels in planning and management for military operations, expedition preparation, relief and humanitarian work, supply and implementation at both the small and very large scales all over the world.
A man with nothing to prove, but a huge zest for life and people, Lars' ever present sense of humour, depth of experience and passion for teaching mean his always approachable for students and constantly striving to ensure maximum benefit for all during course delivery. When he is not training others, Lars spends his time outdoors, which remains his greatest passion and lifestyle; living in the Taiga forest for extended periods of time, tracking, hunting and fishing. In addition, he continues his studies of languages, currently becoming fluent in Russian which he plans to add to the 5 other languages he speaks.